ON

, LUXURY IS NOT A STATE OF MIND, IT IS A VIRTUAL REALITY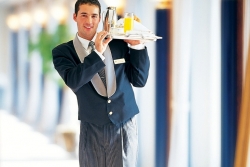 "A 'Symphony of Elegance', orchestrated by a crew whose unwavering standard of perfection and service has rightly earned it the reputation as the very best in the world." That's how one of our customers described their experience cruising aboard the . That falls right in line with having been voted World's Best more than any other cruise line, hotel, or resort in history by the readers of both Conde' Nast Traveler and Travel + Leisure magazines.

Design a journey from the crisp air and golden colors of

, to a tapestry of the warm white sand and vivid floral patterns in : from Europe's rich historical architecture, to the Scandinavian Artic in , or the ancient shores of ; view the wonders of the mysterious Orient and the pleasure of the Polynesia in ; or choose to travel the world on to more than 40 ports in 37 countries. It all awaits you.

With a capacity of only 940 guests on the

and 1080 on the sister ship, , an intimate, un-crowded atmosphere awaits you as you luxuriate in the comforts of spacious open areas, or those little get away places on a sun lit deck, where you can spend quiet time with a book or just savoring the thoughts of the many exciting onshore adventure excursions that lay ahead.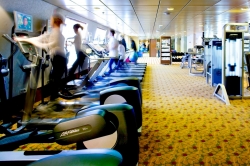 Visit the extraordinary state of the art fitness center for a complimentary "Tour de Spin" ride which graphically mirrors different stages of the "Tour de France." Using LeMond Fitness Bikes, the virtual programs are choreographed to music, ideal for spinning. You can challenge yourself with new hobbies-piano, language, or art at the ships' revolutionary Creative Learning Institute, offering complementary classes from Berlitz and Yamaha. Or take any of the dozens of classes offered in the latest software in the ships' dedicated Computer University @ Sea.

With no tips, no tabs, no timetables,

' all inclusive host of complimentary services offers fine wines and premium spirits throughout the ship. You may dine in any of its complimentary specialty restaurants featuring the cuisines of Master Chef Nobu Matshisa and Italian restaurateur Piero Sevaggio. Open dining by reservation means you can dine on your own schedules with whomever you choose.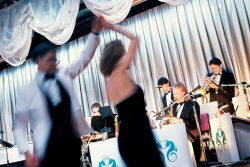 Expand your evening hours by visiting the numerous entertainment venues aboard, from award-winning Broadway-style entertainment, to the cabarets, piano bars and dance clubs with Karaoke. Again most fine wines and spirits are complementary. When it is finally time to retire, you can enjoy your luxuriously appointed stateroom, which are some of the most spacious in the industry. Slip into your complementary Frette bathrobe, kimono and slippers and sip that final glass of champagne on your private moon-lit balcony before slipping into a bed of 100% Egyptian linens, as you drift into a quiet sleep with dreams of the tomorrows ahead.

If luxury and value are important to you,

offers the ultimate choice for the world's most sophisticated travelers.